Welcome Message

Australian Embassy in Greece on Facebook

Australian Ambassador to Greece on Twitter

Australian Embassy in Greece on Instagram
Welcome to the website of the Australian Embassy in Greece.
Here you will find information on how to contact us, advice on the range of passport, notarial and consular services available to Australian citizens, and information on visa and citizenship arrangements. There are links to sites where you can obtain information about social security and pension payments, trade and investment advice, and find general information about Australia. To learn more about Australian foreign and trade policy, or our bilateral relationships with Greece, Bulgaria and Romania, to which the Embassy is accredited, you can explore the Department of Foreign Affairs and Trade website: www.dfat.gov.au. If you are an Australian citizen planning to travel overseas, check out the Smartraveller website.
COVID-19 - Visiting the Embassy in Athens
We are monitoring the COVID-19 pandemic, and actively following the latest medical advice and official reports issued by the Greek authorities. During this constantly evolving situation, the safety of Australian citizens, and our Client Services and Embassy team remains our highest priority. We ask that you stay up to date with the measures being implemented across Greece, Bulgaria and Romania, and most importantly, follow the advice of local authorities.
For Australians in Bulgaria & Romania
Our Honorary Consuls in Bulgaria (Sofia) and Romania (Bucharest) may only be able to offer limited assistance.
If you need urgent consular or passport assistance please phone the Embassy in Athens directly on +302108704000. This number is open for calls 24 hours, 7 days a week to ensure you are assisted. Please note that between 4pm and 8am (Central European time) there may be additional waiting times when the number is redirected to our call centre in Canberra.
What's New
Voting in the 2023 Referendum
On 14 October 2023, Australians will be asked to vote in a referendum to alter the Constitution.
The Australian Embassy in Athens will be an in-person voting centre and postal vote collection centre.
All eligible Australians living in or visiting Greece will be able to vote.
To be eligible to vote, you must be enrolled. Please ensure that your enrolment details are up to date at the Australian Electoral Commission (AEC) website.
Opening dates and times for in-person voting and postal vote drop-offs at the Australian Embassy in Athens are:
Tuesday 3 October – Friday 6 October: 8.30am – 3.30pm
Monday 9 October – Thursday 12 October: 8.30am – 3.30pm
Friday 13 October: 8.30am – 12.30pm
The Embassy will be closed on the day of the referendum.
You must bring a valid ID to attend the Embassy.
You can also mail your postal vote to the Embassy (5 Hatziyianni Mexi Street, Athens).
Mailed-in postal votes should arrive at the Embassy no later than 12.30pm, Friday 13 October 2023. Alternatively, you can return your postal vote directly to the AEC in Australia. Postal votes must be received by the AEC no later than Friday 27 October 2023.
Please note that the Consulates in Bucharest and Sofia will not provide in-person or postal voting services.
The Governor-General of the Commonwealth of Australia and his spouse arrived in Athens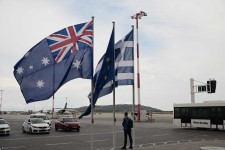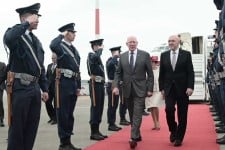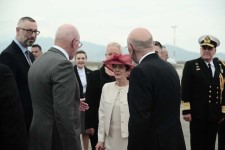 Moved and delighted that the Governor-General of the Commonwealth of Australia, the Honourable David Hurley, and his spouse Linda Hurley arrived on 1 May in Athens to celebrate the lasting and close bonds of friendship uniting our nations. The Governor-General will have high-level meetings, incl. with the President of the Hellenic Republic Katerina Sakellaropoulou and PM Kyriakos Mitsotakis. Their Excellencies will then travel to Lemnos to commemorate the shared wartime heritage of Australia and Greece.
Historic news!

The Governor-General of the Commonwealth of Australia, His Excellency General the Honourable David Hurley AC DSC (Retd) and Mrs Linda Hurley will visit Greece from 1 to 4 May to celebrate the historic links and close friendship between our nations.

During their visit to Greece, Their Excellencies will visit Lemnos to commemorate the ANZACs who served and passed through the island during the Gallipoli Campaign.

For further information, please read the Media Advisory

His Excellency General the Honourable David Hurley AC DSC (Retd), Governor-General of Australia

Katerina Sakellaropoulou, President of the Hellenic Republic
OECD Guidelines for Multinational Enterprises

The Australian Government encourages Australian enterprises operating overseas and multinational enterprises operating in Australia to observe the OECD Guidelines for Multinational Enterprises. The Guidelines provide voluntary principles and standards for responsible business conduct in a variety of areas, including:
human rights;
employment and industrial relations;
environment;
combating bribery, bribe solicitation and extortion;
consumer interests;
science and technology;
competition; and
taxation.
The Australian National Contact Point (AusNCP) promotes the use of the OECD Guidelines and contributes to the resolution of issues relating to their implementation, including facilitating access to conciliation services.
DIRECTOR IDENTIFICATION NUMBER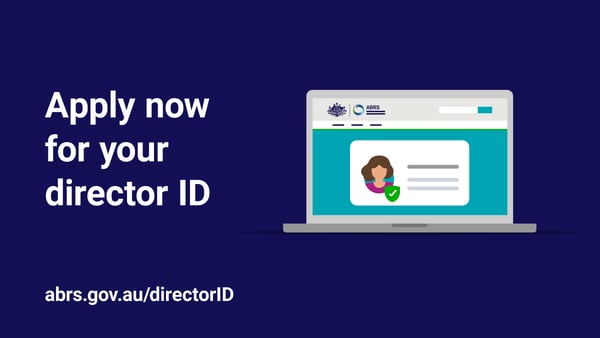 Are you an Australian company director, based in Australia or resident overseas? If so, you are required to apply for a director identification number (director ID). Find out more.
AUSTRALIA-BULGARIA 50 YEARS OF DIPLOMATIC RELATIONS
50th Anniversary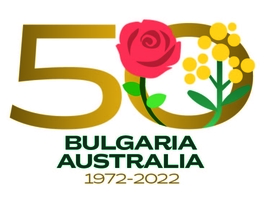 On 5 April 1972, Australia and Bulgaria established formal diplomatic relations. 50 years later, our nations enjoy a strong, warm friendship. One that is grounded in close community links, growing economic ties, and a shared commitment to democracy, the rule-of-law and free trade.
As a tribute to our warm friendship, we are publishing a series of historical photos and archive documents.
RECOGNITION OF AUSTRALIAN DRIVER LICENCES IN GREECE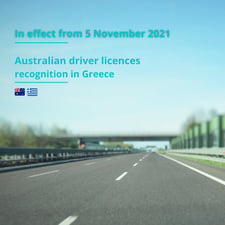 As of 5 November 2021, Australian driver licences are recognised in Greece. Individuals who hold a valid Australian driver licence no longer need to also have an International Driving Permit to be able to drive in Greece. A measure that will greatly benefit thousands of Australians living in or visiting Greece annually.
The Greek law stating the recognition of Australian driver licences is Law 4850, Article 25, Para 3, published in Greek Government Gazette A 208 – 05.11.2021.
LAUNCH OF INSTAGRAM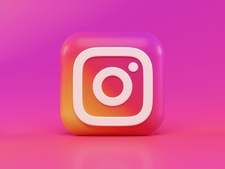 We're spreading our wings a bit wider into the world of social media and joining 📸 #Instagram! Press that 'follow' button and help us share the news!
IG/ausembgr
https://www.instagram.com/ausembgr/?hl=en