INTERNATIONAL DRIVING PERMITS
RECOGNITION OF AUSTRALIAN DRIVER LICENCES IN GREECE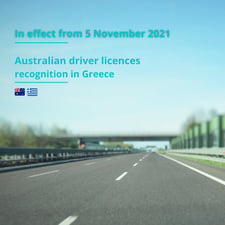 As of 5 November 2021, Australian driver licences are recognised in Greece. Individuals who hold a valid Australian driver licence no longer need to also have an International Driving Permit to be able to drive in Greece. A measure that will greatly benefit thousands of Australians living in or visiting Greece annually.
The Greek law stating the recognition of Australian driver licences is Law 4850, Article 25, Para 3, published in Greek Government Gazette A 208 – 05.11.2021.
Both Australia and Greece are party to the United Nations Convention on Road Traffic 1949.

IDP Authorities

New South Wales
NRMA City Branch

Queensland
RACQ Ltd.(Royal Automobile Club of Queensland Limited)

Victoria
RACV(Royal Automobile Club of Victoria)

South Australia
RAA(Royal Automobile Association of South Australia, Inc)

Western Australia
RAC(Royal Automobile Club of Western Australia (Incorporated)

Tasmania
RACT(Royal Automobile Club of Tasmania Limited)

Northern Territory
AANT(Automobile Association of Northern Territory Inc)
Tel:(08) 8981 3837