BATTLE OF CRETE COMMEMORATIONS
CRETE, 15-24 MAY 2021
From 15 to 24 May 2021, the 80th anniversary of the Battle of Crete will be marked with a series of commemorative services and events in Rethymno and Chania organised by the local authorities in Crete. The Australian Embassy will be there to pay tribute to the Australian service men and women who helped defend Crete during WWII and to honour the bonds of friendship between Australians and Greeks that were forged in the cauldron of war. While the events will be held in a COVID-wise format and attendees will be required to practice physical distancing, large gatherings still present a risk. We therefore encourage Australians in Greece who wish to mark the Battle of Crete to do so safely.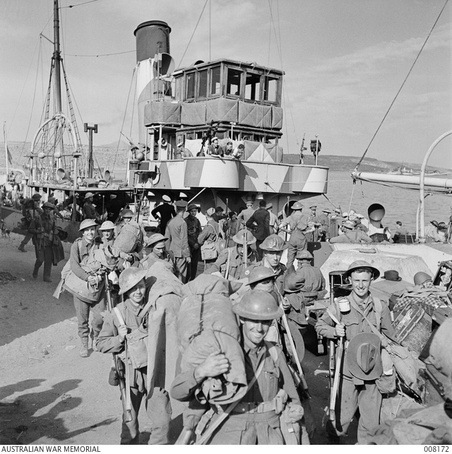 Photo credit: Australian and other Empire troops evacuated from mainland Greece arrive at Souda Bay, Crete, some with their kits, in April 1941. They were lucky, as most landed without, for kits had to be abandoned or destroyed in many cases. (Australian War Memorial 008172; photographer George Silk)
Sunday, 16 May 2021
11.00 – Commemorative service and wreath-laying at the Battle of Crete Memorial
Location: Village of Chora Sfakion
Monday, 17 May 2021
11.00 – Commemorative service and wreath-laying at the Gouvernetto Monastery
Location: Akrotiri Peninsula, Region of Chania
18.30 – Commemorative service and wreath-laying at the New Memorial to the Fallen of Agrimokefala
Location: Municipality of Kantanos-Selinos, Region of Chania
Tuesday, 18 May 2021
18.30 – Commemorative service and wreath-laying at the Memorial to the Fallen Inhabitants
Location: 1, Kanari Coast, Nea Chora harbour, Chania town
Wednesday, 19 May 2021
08.00 – Flag hoisting at the Unknown Soldier Memorial by the 547 AM/TP Regiment
Location: Square of the Unknown Soldier (Platia Agnostou Stratioti), Rethymno town
18.00 – Commemorative service and wreath-laying at the Memorial to the Fallen & the Bust of Colonel Stylianos Manioudakis
Location: Village of Armeni, Region of Rethymno
19.30 – Commemorative service and wreath-laying at the Peace Memorial for Greeks and Allies
Location: Preveli, Region of Rethymno
Thursday, 20 May 2021
11.00 – Commemorative service and wreath-laying at the Army Cadets Memorial
Location: Kolymbari, Region of Chania
11.30 – Commemorative service and wreath-laying at the 110 Martyrs Memorial
Location: Missiria, Region of Rethymno
19.30 – Commemorative service and wreath-laying at the Monument of the Fallen
Location: Junction of Kallergiana, Municipality of Kissamos, Region of Chania
Friday, 21 May 2021
10.00 – Firka Fortress – Official flag hoisting
Location: Harbour, Chania town
12.00 – Commemorative service and wreath-laying at the Battle of 42nd Street Memorial
Location: Tsikalaria Str., Tsikalaria, Region of Rethymno
18.30 – Commemorative service and wreath-laying at the Greek-New Zealand Memorial
Location: Galatas square, Galatas, Region of Rethymno
Saturday, 22 May 2021
10.00 – Commemorative service and wreath-laying at the Memorial to the Fallen Greeks
Location: Area of Latzimas, Region of Rethymno
11.00 – Commemorative service and wreath-laying at the Keritis Memorial
Location: Municipality of Platanias-Alikianos, Region of Chania
11.30 – Commemorative service and wreath-laying at the Australian-Greek Memorial
Location: Area of Stavromenos, Region of Rethymno
13.00 – Commemorative service and wreath-laying at the Greek-Australian Memorial | Presentation of RSL National awards to Cretan students
Location: 38, Igoumenou Gavriil Str. (Efedron Axiomatikon Square), Rethymno town
18.00 – Commemorative service and wreath-laying at the Commonwealth War Graves Commission Cemetery in Souda
Location: Souda Bay, Region of Chania
Sunday, 23 May 2021
07.00 – Official doxology
Location: Metropolitan Church, Chania town
10.00 – Official doxology
Location: Presentation of Mary Metropolitan Church, Rethymno town
10.30 – Memorial service and wreath-laying at the Rethymno Gerndarmerie School
Location: 29, N. Kazantzaki Str. (Scholi Astyfylakon), Rethymno town
11.00 – Official doxology
Location: Metropolitan Church, Chania town
13.00 – Commemorative service and wreath-laying at the German War Graves Cemetery
Location: Maleme, Region of Chania
18.30 – Closing Ceremony: Commemorative service and wreath-laying at the Battle of Crete Memorial at Maleme Airport
Location: Maleme, Region of Chania
20.00 – Lowering of the flag at the Unknown Soldier Memorial by the 547 AM/TP Regiment
Location: Square of the Unknown Soldier (Platia Agnostou Stratioti), Rethymno town
Saturday, 15 May 2021
18.30 – Exhibition Inauguration: Battle of Crete photographs and testimonials
Location: Sabbionara Rampart, Chania town
Duration: 15-30 May 2021, 10.00-14.00, 18.00-22.00
19.30 – Exhibition Inauguration: Visual art by D. Asteriou
Location: Giali Tzamisi, Chania town
Duration: 15-30 May 2021, 10.00-14.00, 18.00-22.00
Tuesday, 18 May 2021
20.30 – Presentation of the book 'Nikos Kopasis 1917-2017. The 7th day of the Battle of Crete at Stavromenos Rethymno and the aspects of a life' | Presentation of student awards
Location: Municipal Cinema 'Kipos', Stratigou Emmanouil Tzanakaki 34 Street, Chania town
Wednesday, 19 May 2021
21.00 – Central event of the Municipality of Chania: Presentation of open-air photographic exhibition 'Chania bombarded'
Location: Municipal Cinema 'Kipos', Stratigou Emmanouil Tzanakaki 34 Street, Chania town
Thursday, 20 May 2021
20.30 – Exhibition Inauguration: Battle of Crete exhibition by the Battle of Crete Commemoration Committee
Location: Centre of Mediterranean Architecture, Akti Enoseos, Georgiou Katechaki Square, Chania town
Duration: 20-30 May 2021, 10.00-14.00, 18.00-22.00
Friday, 21 May 2021
19.00 – Exhibition Inauguration: Photographic exhibition featuring original archive material from Dimitris Skartsilakis
Location: Municipal Garden of Rethymno (northern side), Rethymno town
Duration: 21 May – 20 June 2021
21.00 – Documentary Premiere: 'Sons of Tu Matatuenga' by Michael Havas
Location: Municipal Cinema 'Kipos', Stratigou Emmanouil Tzanakaki 34 Street, Chania town
Saturday, 22 May 2021
20.30 – Central event of the Regional Unit of Chania: Presentation of Stamp Collection | Concert
Location: Municipal Cinema 'Kipos', Stratigou Emmanouil Tzanakaki 34 Street, Chania town
Monday, 24 May 2021
18.30 – Central event of the Municipality of Apokoronas: 'Aghia Sofia' Public Benefit Foundation | Presentation of sports awards
Location: Apokoronas, Region of Chania
21.00 – Opening of Battle of Crete Audiovisual Festival
Location: Municipal Cinema 'Kipos', Stratigou Emmanouil Tzanakaki 34 Street, Chania town
For additional information, please contact:
Regional Unit of Rethymno: Mr Stavros Paltatsidis, +30 28313 40801
Regional Unit of Chania: Ms Roula Oikonomaki, +30 28213 40160